The Ukrainian counteroffensive continued in the Kharkiv region, with Ukrainian forces regaining most previously occupied territory, including the large logistical hubs of Kupiansk and Izium (The Guardian, 12 September 2022). These successes also allowed Ukrainian forces to retake ground in the Luhansk region, which Russian forces had fully occupied since July (ISW, 11 September 2022). Ukrainian counterattacks also continued in the Kherson region with no confirmed territorial gains. On 16 September, Ukrainian forces struck Russia's occupation headquarters in Kherson during a meeting of Russian-appointed city and municipal heads (ISW, 16 September 2022). 
Similar to Russia's withdrawal from the northern regions in early April, the de-occupation of Kharkiv has revealed atrocities committed by Russian soldiers, including a mass grave with over 400 bodies near Izium and torture chambers across the region (The Guardian, 17 September 2022). Meanwhile, over 20 civilians were killed last week by Russian shelling and missile strikes in the Donetsk, Kharkiv, Mykolaiv, and Zaporizhia regions. Additionally, at least four civilians were killed and four were wounded in mine explosions in the Kharkiv, Zaporizhia, and Donetsk regions.
For more information, including previous infographics and an interactive dashboard, visit our Ukraine Crisis research hub.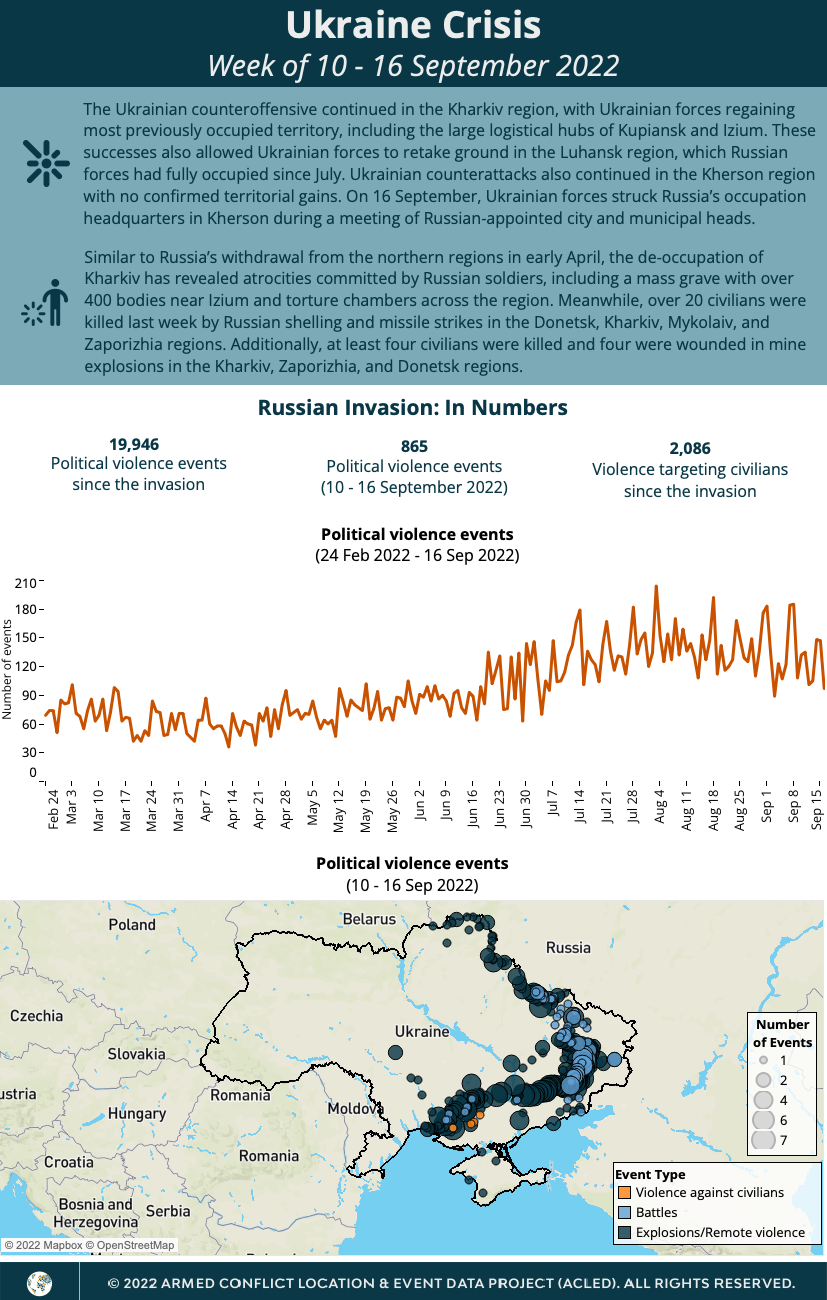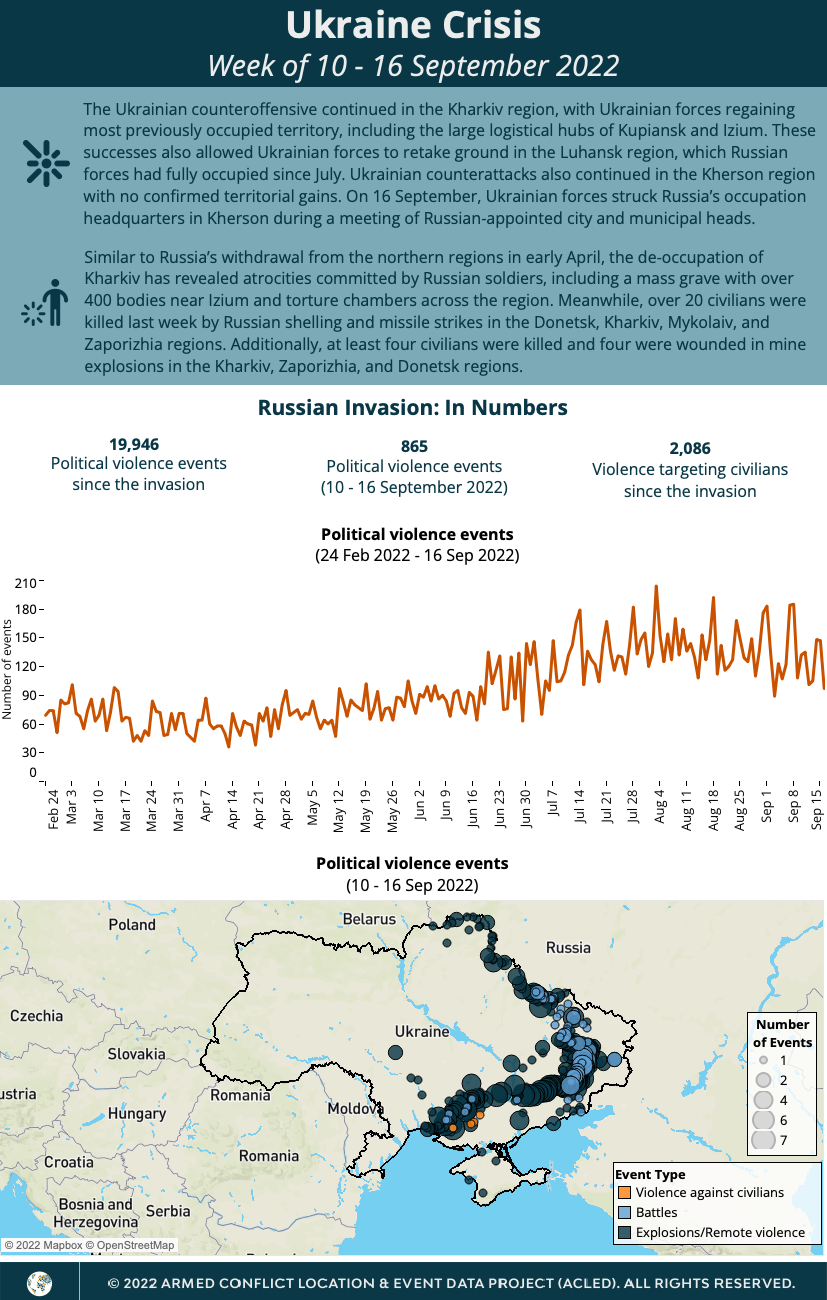 Olha Polishchuk is the Eastern Europe, Caucasus, and Central Asia Research Manager at ACLED and has been with the organization since September 2018, originally hired as the Ukraine Researcher. Currently, she manages a team of researchers covering countries across Eastern Europe, Caucasus, and Central Asia and oversees the dataset and analysis work for the region. Olha holds an LLM in Law of the Sea from the Arctic University of Norway, an LLM in Human Rights Law with International Law from the University of Kent, and a bachelor's degree from the Taras Shevchenko National University of Kyiv. She has experience working in the private law sector, with Ukrainian government institutions, and human rights NGOs.
Ciro Murillo is a Data Literacy Officer at ACLED and has been with the organization since April 2022. He currently supports the data literacy strategy of the analysis department. Ciro holds a BA in Political Science and Government from Universidad del Norte (Colombia). Ciro has over three years of experience working on research about the Colombian conflict and information management support for humanitarian organizations.
Regions: Europe, Caucasus, and Central Asia
The Armed Conflict Location & Event Data Project (ACLED) is a disaggregated data collection, analysis, and crisis mapping project.
ACLED is the highest quality and most widely used real-time data and analysis source on political violence and protest around the world. Practitioners, researchers, journalists, and governments depend on ACLED for the latest reliable information on current conflict and disorder patterns.
ACLED is a registered non-profit organization with 501(c)(3) status in the United States.
Please contact [email protected] with comments or queries regarding the ACLED dataset.