Sayan Sen Neowin · · Hot! with 2 comments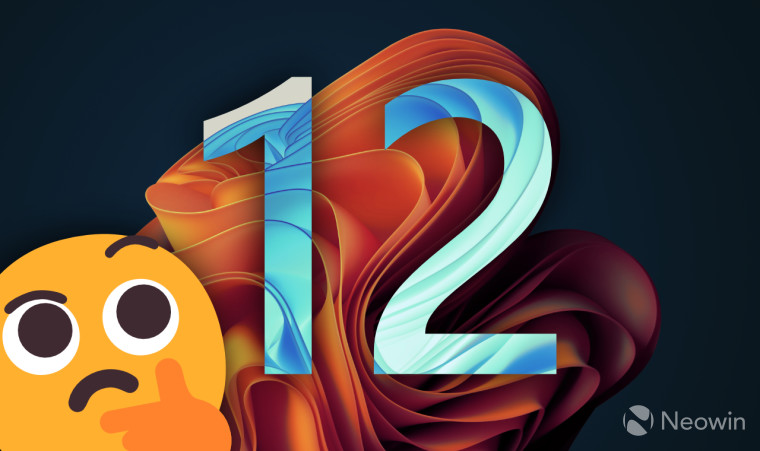 While we still have at least a couple of Windows 11 Moment updates left in store (Moment 3 and Moment 4), Microsoft is already making some steady progress toward Windows 12. Senior exec Panos Panay explained that the next-gen Windows 11 and Windows 12 will be a blend of
cloud-powered and AI-driven experience
, and Microsoft is slowly making some
progress towards it
. In aspects of security too, the company is killing off legacy components
like MSDT
, as well
as VBScript
, which has been exploited in the past.
If you are wondering about the release date of Windows 12, a recent rumor regarding Intel's 14th Gen Meteor Lake-S desktop CPUs claimed that Microsoft's
Windows 12 will be supported
by the next-gen Intel CPUs. The rumor was interesting regardless if it's true or not. However, it may end up being the latter, as there appears to be some lack of evidence that supports the existence and arrival of Meteor Lake-S.
Rumors from December suggested that launch plans for Meteor Lake-S were canceled (via Raichu on
Twitter
), and a more recent (now-deleted)
report
from Benchlife also echoed similar sentiments. The report claimed (via
Wccftech
) Arrow Lake-S will be superseding the canceled Meteor Lake-S:
There may have been some changes in Intel's product planning for desktop computers. The previously rumored Meteor Lake-S, which was expected to launch in the first half of 2024, may be renamed Arrow Lake-S and paired with the Intel 800 series chipset. Both Meteor Lake-S and Arrow Lake-S use the Intel LGA 1851 socket. According to the source, Arrow Lake-S will maintain a maximum 8P+16E core configuration, while the 6P+16E configuration for MTL-S will be canceled.
HWiNFO, which can often reliably leak upcoming CPU or GPU products / SKUs, does not seem to feature anything regarding Intel's Meteor Lake-S (MTL-S).
Version 7.3.2
does however mention " Metero Lake" only. Meanwhile, the most recent pre-release version (
v7.41, Build 5020
) of the software has already added preliminary support for Arrow Lake-S. Although it is possible that Meteor Lake-S gains HWiNFO support later on after Arrow Lake-S, it is a bit unlikely.
While it is possible that Windows 12 arrives alongside Meteor Lake mobile instead of the Meteor Lake-S desktop CPUs (like rumored), that would be a difficult thing to happen as Windows 12 will then have to release either by the end of this year or early next year. This is because, on multiple occasions, Intel has reiterated that its Meteor Lake CPUs, which are being built on the
Intel 4 node
, were already manufacturing-ready by the second half of 2022. In a recent statement to
The Verge
, Intel spokesperson Thomas Hannaford reassured that such plans remained unchanged and 2023 is when Meteor Lake sees the light of day.
Similarly, a 2023 launch for Windows 12 also does not align with the previous report which suggested that the Redmond giant was moving back to a
three-year launch cycle
for new OSs since in that case, a 2024 2H launch becomes more plausible.
Regardless though, Meteor Lake would probably require some extra optimization just like Alder Lake did. That's because Intel is going for a tiled architecture with Meteor Lake and Arrow Lake. This approach is very similar to AMD's chiplet design and hence Intel would be able to employ different process nodes across the different tiles inside its CPUs.
According to Intel's process node roadmap, Intel's 20A process, which will be used by Arrow Lake, is going to be ready for manufacturing in the first half of 2024. This also happens to be the year when Windows 12 is most likely to release given the reports we have had.
with
42

comment s
with
17

comment s
with
131

comment s
with
29

comment s
to read and post a comment.
Please enter your reason for reporting this comment.
microsoft weekly
geekom a5
windows 11 insider preview promo
twirl 137
windows 11 insider preview promo
rufus
windows 11 insider preview promo
windows 11 23h2
win10vswin11
intel 14th gen benchmarks
oukitel wp27
© Since 2000

Neowin

LLC.
All trademarks mentioned are the property of their respective owners.